Waterside Academy's Harvest Festival 2018
Waterside Academy's Harvest Festival 2018
19 October 2018 (by admin)
On Friday 19th October 2018 Waterside Academy hosted a Harvest Festival Assembly.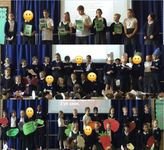 The children invited their families to come into school and watch a wonderfully choreographed assembly packed with beautifully rehearsed Harvest Festival songs, pieces of work the children have been working on and a food collection.
We would like to thank those of you who came along to the assembly and to those who have donated food to our collection.
Our collection is being collected by a member of the Parkway Church who will be distributing amongst local food banks.