Safeguarding runs through our school like a message in a stick-of-rock
Waterside Academy is committed to safeguarding children.
Let's just pause and say that again; Waterside Academy is absolutely committed to safeguarding children.
Should you ever have any concerns, regarding a child's safety or well-being, please contact our Designated Safeguarding Leader (DSL) or a Deputy DSL immediately - we are always here to listen and help out!
All of our safeguarding leaders can all be contacted via the school office or via e-mail:
DSL - head@waterside.herts.sch.uk - this will get you through to me, the Headteacher and safeguarding leader.
or
DDSL - admin@waterside.herts.sch.uk - this will get you through to Mrs Powell who is a deputy safeguarding leader.
Our Safeguarding Team (2019-20)
DSL - Mr T Mills-Bishop (Head Teacher)
Deputy DSLs - Mrs Geaves, Mrs Powell and Mr Sal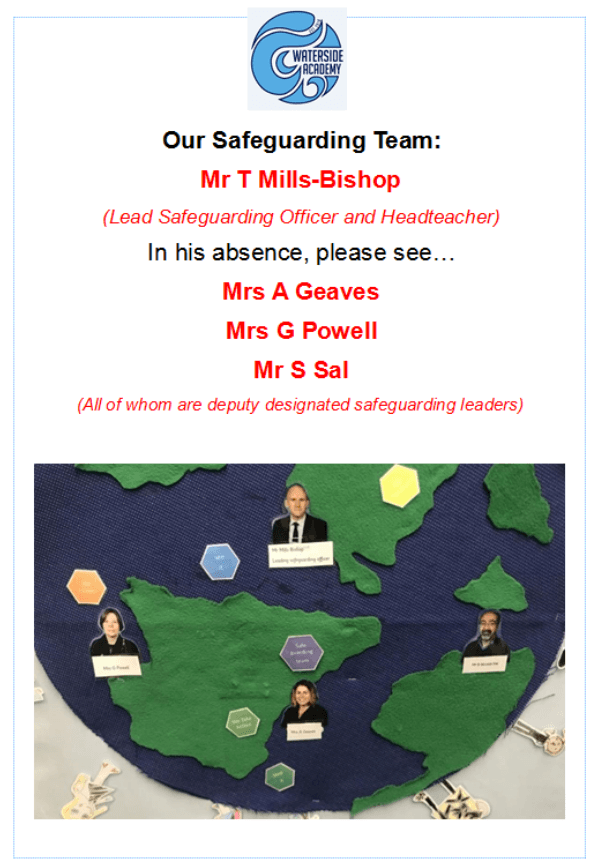 How do we keep children safe at Waterside...
At Waterside Academy we have a very robust culture of safeguarding - we take the well being and safety of all our pupils very seriously. Our work within safeguarding underpins everything we do. I am very proud to lead a team of four fully trained safeguarding officers and when Mrs Wilson returns from maternity leave, we will make a team of five.
We are all qualified to hold the position of Designated Safeguarding Leader. I act as the leader of this group and the other members, listed above, serve as my deputies. We meet every second week to formally review all children in the school who require additional support or for whom there are/has been a concern as well as identify ways in which we can offer further support to ensure each and every child is kept safe both here at Waterside and whilst they are not within our care.
Having introduced my 'child protection' team of leaders, I would also like to take this opportunity to say that safeguarding children is still everyone's job. Each and every adult who comes into contact with children has a duty to protect them. This is something my entire staff team take on with absolute pride.
At Waterside, we use an online record keeping system to keep chronological records of all concerns.
Our staff can quickly and easily alert the safeguarding team, via this system, should they need to raise a concern. There are also 'back-up' paper systems in place should technology not be in place or available at the point of need.. Anything 'paper-based' is then securely locked away and only ratified personnel can gain access.
Safeguarding is discussed, appropriately, at every single meeting the staff and I ever have.
We set aside time to regularly train and then re-train and then re-train and then re-train and then re-train and re-train (you get it), our staff, on how to safeguard all children, how to spot potential abuse and/or neglect and how to offer and/or get pupils appropriate help and support when required.
Whenever we recruit a new member of staff we always ask them, at interview, challenging questions regarding safeguarding practices - we only want the best and most appropriate professionals working for us. On every interview panel there is at least one member of the DSL team present and at least one person (usually far more) who has done their safer recruitment training.
All staff and all volunteers are fully DBS (police) checked and we hold two full references (stating they are a fit and proper person to be working alongside children) on file. All staff and visitors sign in and out of the school building each day.
This one is fundamental... All our staff know who our safeguarding officers are! Please do ask them! All of our staff know how to help children and what processes we follow.
The school site is secure and health/safety assessments are regularly made (often with the watchful eye of the governing body) with improvements to security continuously sought.
No stone is ever left un-turned here - if you do ever have any feedback for us then our door is always open and my ear is always listening.
Policies:
Latest Child Protection Policy
Further Support:
Childline - New Childline website for under 12s...
Childline has launched a website aimed at children under the age of 12. This provides age appropriate content on topics including: bullying, family, friends, feelings, school, abuse and staying safe. It also includes games and therapeutic tools for young visitors to play and express how they are feeling. It will be promoted through the NSPCC's Speak out Stay safe programme.
View the website here: Childline website for under 12s
Read more on NSPCC Learning: Speak out Stay safe
UNICEF:
Waterside Academy is a 'Rights Respecting' School
The Rights Respecting Schools Award puts children's rights at the heart of schools in the UK.
Unicef works with schools in the UK to create safe and inspiring places to learn, where children are respected, their talents are nurtured and they are able to thrive. Our Rights Respecting Schools Award embeds these values in daily school life and gives children the best chance to lead happy, healthy lives and to be responsible, active citizens.
Using the UN Convention on the Rights of the Child (UNCRC) as our guide, we are working with more UK schools than almost any other organisation. Over 1.6 million children in the UK go to a Rights Respecting School and nearly 5,000 schools up and down the country are working through the Award. Schools work with us on a journey to become fully Rights Respecting.
The Award recognises a school's achievement in putting the United Nations Convention on the Rights of the Child into practice within the school and beyond.
Further Reading (NSPCC)
One last reminder...
Should you have any concerns or questions regarding safeguarding,
please do come and speak with us without delay.
Alternatively, feel free to e-mail me directly via head@waterside.herts.sch.uk
- This is particularly useful during the school holidays, weekends and on other occasions when the school itself is closed. Even during those times, we are available to help.